Abrico Beach - 6 Cool Facts For The Nature Lover (of all kinds)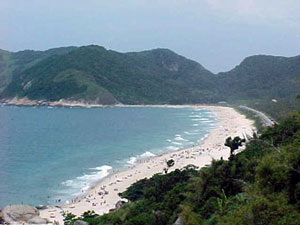 Abrico Beach is located in the Grumari area and is one of the more interesting beaches in Rio de Janeiro. Although it may not be for everyone, its diversity makes it an adventure and a unique experience. With so many parts of nature spoiled by development, Abrico is one that remains unspoiled. Enjoy these 6 cool facts!
Nude - Really? - It is the beach chosen by those who wish to sunbathe and swim in the nude. This beach legally became a nudist beach in 2003. There was a period when it was not open due to this exact reason. The beach is open to everyone. The clothing is optional and can be left on if you prefer.
What Is The Backdrop? - The beach is truly beautiful with white sand and blue waters. There are rocks and foliage as well that make the view here quite diverse. Offshore there are small islands, allowing it to have a bit of everything. The beach is between a mountain and the sea and with the rocks and natural vegetation that grows here, the beach is not only a place of beauty, but it is tranquil and a wonderful beach for relaxing. 
Is It Safe? - It is patrolled by city guards as well as the state police and is considered to be a safe beach. This makes it an appealing destination for those who are concerned about safety.
What Kind of Feel Does It Have? - The beach has the advantage of being close to the Barra da Tijuca neighborhood. This neighborhood is known as being one of the most popular in Rio de Janeiro. There is an American feel here - so much so - that it is often called Brazil's Miami Beach.
Are There Refreshments? - The restaurants here are plentiful and of course, specialize in seafood. There are also many bars. It also has many vendors who sell on the beach. Some are foot vendors and there are also stands, selling snacks, sandwiches, beer and soft drinks. The Grumari is next to the entrance to the beach and is a small restaurant structure that sells sandwiches and seafood.
What's There Besides Nude People? - Even the rocks here have plants growing on them. There are agavas, bromelias, cacti and hibiscus to name a few. A variety of tropical trees are also part of the landscape. Giant white egrets are a common sight here as well. Often if you are here at night, you can see sparkling bugs in the air, which is a spectacular sight. This beach definitely has a little of everything.