Rio De Janeiro Brazil - 6 Things You Need To Experience
Rio de Janeiro Brazil is commonly known as Rio, and is the second largest city in Brazil. This amazing city is the most visited in the southern hemisphere. Soon after you fly into the Rio de Janeiro airport, you'll understand why Rio is such a popular city.
Rio is well known for its outstanding partying, vibrant culture, and breath taking natural beauty. Here are the 5 Best Hotels in Rio de Janeiro that you should look at while you're visiting. After reading more about Rio, you'll find out why it's called "A Cidade Maravilhosa" (the Marvelous City). Check out these 6 Things You Need to Experience in Rio as well as these little known facts about Rio de Janeiro. You'll also need to make sure how to pack depending on the time of year that you'll be going to Rio. Rio de Janeiro Weather is pretty temperate and moderate all year long but there can be some spikes during summer. Make sure you're prepared.
#1 - The Rio de Janeiro Christ the Redeemer Statue - Cristo Redentor (as it's called in Portuguese) attracts visitors from all over the world; and has become an iconic figure in Rio. This amazing 130ft tall concrete and soapstone figure is breath taking, and considered the second largest art deco figure in the world. In 2007 this incredible statue was named as one of the new 7 wonders of the world, and is clearly visible from every area in the city. Take a look at some of my Rio de Janeiro pictures because there's a pic of me in front of the Christ the Redeemer statue and one looking down at Sugar Loaf mountain from Christ the Redeemer. There's 8 Rio de Janeiro pics in total of different cool places. You should take a look at them now.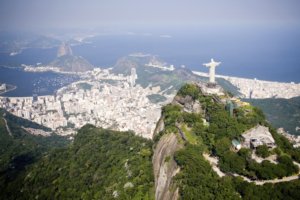 #2 - Sugarloaf Mountain - Another fantastic place to visit when in Rio is Sugarloaf Mountain; this peak overlooks Guanabara Bay, and is reached by two cable cars. During the ride up the mountain you will be subjected to an amazing 360 degree view of the city. For the more adventurous rock climbing is possible, however you do need to be experienced to attempt it.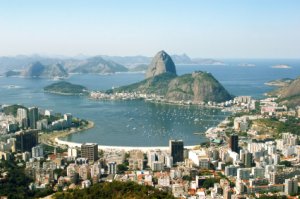 #3 - Rio de Janeiro Carnival - (or Carnaval, which is the correct way to spell but does it really matter?) The carnival is a huge event in Rio de Janeiro Brazil, and one event not to miss if you are in the city. The four day celebration has the whole city involved, and is a vibrant and exciting display of how the Brazilians love to party. The celebrations are to signify the period before Lent where traditionally Roman Catholics were allowed merriment before this period. The dates do change every year for the annual carnival, so ensure that you are aware of the current dates if you want to join in.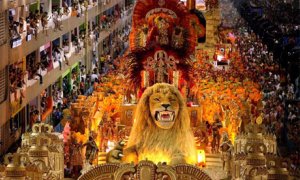 #4 - Beaches in Rio de Janeiro - The beaches are another very popular reason to visit Rio de Janeiro Brazil, the beach culture is huge, and tourists can be found amongst locals all enjoying the golden sands. Fashion is very important on the beach, and trends are often created and set on the sands. The beaches in Rio are not just for relaxing, they are a whole social event with many different sports being played.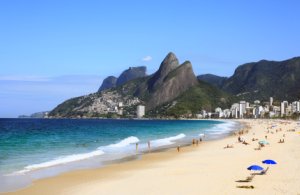 #5 - Rio de Janeiro Nightlife - The nightlife in Rio de Janeiro Brazil is amazing and attracts clubbers of all ages from all over the world. This vibrant city comes to life when the sun goes down, and the bars and clubs attract all types of party goers. The local bars may not seem appealing from the outside with the worn décor and unusual look, however, once inside you will have an amazing time. Alongside the traditional bars there are many newer music venues and night clubs. You'll be sure to run into plenty of beautiful Rio de Janeiro girls while you're out on the town.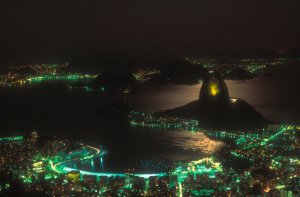 #6 - Rio de Janeiro Favelas - The Rio de Janeiro favelas, where life pulses to a different beat, lie beneath the glitz and glamour of this beautiful city. They stretch as far as the eye can see, turning the city's landscape into a colorful patchwork of shoddily constructed shanties. Their narrow alleyways hold many secrets, and most people would be surprised to find that their prejudices about Brazilian slums have no basis in reality.
All visitors to Rio de Janeiro Brazil will have the time of their life as there is so much to see and do in this incredible city. You will leave Rio feeling vibrant and full of life, and ready to return as soon as possible.
Home
›› Rio de Janeiro Brazil