Sugarloaf Mountain - 5 Interesting Facts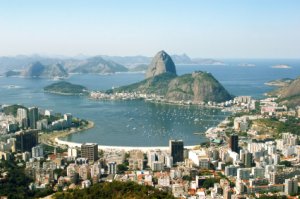 Sugarloaf Mountain is a striking natural landmark overlooking Rio de Janeiro that sits at the entrance to Guanabara Bay in southeastern Brazil.
Known as Pao de Acucar in Portuguese, it is named for its unique shape that resembles a traditional form of refined sugar used in the 19th century. A tall granite cone with a circular top, it reaches up some 1,299 feet, or 396metres. Here are 5 interesting facts about this spectacular part of Rio de Janeiro, Brazil:
1. Rock Climbing - Sugar Loaf Mountain is one of the largest and most popular urban rock climbing destinations in the world. There are 270 different routes to explore in the area as you climb high above the Atlantic Ocean and the sprawling Rio de Janeiro. You can give it a hand yourself, or watch other adventurers conquer the iconic mountain.
2. Neighboring Mountains - It is not the only unique landmark in the area. Its neighbors add to the tranquil beauty of the whole peninsula. Morro de Babilonia, or Babylon Mountain and Morro de Urca, or Urca's mountain are two neighboring natural wonders. These two mountains are also accessible to the public and open to rock climbers. Morro de Urca offers a play area for children and a restaurant that serves up delicious dishes.
3. Hollywood Star - Sugar Loaf Mountain has made an appearance in Hollywood blockbusters. The beauty of the area makes it perfect for the big screen. Pao de Acucar made its debut on screen in the 1942 film "Now, Voyager" with Bette Davis. It has also been featured in a James Bond film, "Moonraker" in 1979 where one of the scenes unfolded in a cable car. It has even been referenced in the popular cartoon sitcom, "The Simpsons."
4. Guanabara Bay - Historic Guanabara Bay stretches in front of Sugar Loaf Mountain. Translated as "the bosom of the sea", it was home to several fortifications built by the colonial government in the 16th century. Guanabara is made up of more than 130 islands and surrounded by beautiful natural scenery you can see from high above as you tour the mountain.
5. Awesome Cable Car Ride - Two cable cars take visitors to the summit where they can enjoy stunning views of Rio de Janeiro from a height of 1,296 feet. The cars themselves are enclosed by glass panels. As you begin to ascend to the very top, you can enjoy the breathtaking views unfolding below you. Because Sugarloaf Mountain sits on a peninsula that stretches into the Atlantic Ocean it offers a unique scenic combination of a bustling city, a tranquil bay, and a sparkling ocean. You will love reaching the summit, but the journey there will be just as enjoyable.
Brazil is known for its beautiful landscape and lively atmosphere. Sugarloaf Mountain, overlooking the famous Rio de Janeiro is no exception. Travelers from all over the world are attracted to this beautiful landmark every year and it continues to be one of the most visited places in Brazil.