Rio de Janeiro Pictures - My 8 Favorite Rio de Janeiro Pics
The Rio de Janeiro pictures are my favorites from when I lived in Brazil. It is the most beautiful city I've ever seen. You have such a long seashore of beautiful beaches and then you have the mountains in the backdrop. It's just amazing. Here's my 8 favorite Rio de Janeiro pics.


Arpoador Beach Looking Toward Ipanema & Leblon
This was a great place to walk as the sun was setting. When you're at Arpoador, it's really one big long beach that extends to Ipanema and Leblon. There is a canal that separates Ipanema from Leblon.


Taken From Sugar Loaf Mountain Overlooking Botafogo Beach
This is really one of my favorite pictures just because of how you can see Rio at night. It really lights up and is just so cool. As you can tell, I like taking pictures around dusk or at night. I had heard from friends that this was the best time to go to Sugar Loaf and they were right.


Carnaval Rio de Janeiro - Just Plain Awesome!
Carnaval in Rio de Janeiro was the coolest thing I did besides going hang gliding. I didn't really think I would like a parade but it was so elaborate and the music and dancing and floats were just so amazing. I think everyone should see a Carnaval parade in Rio de Janeiro.


In Front of Christ the Redeemer Statue
I've seen the Christ the Redeemer statue in so many movies and pictures that it seemed surreal to actually be up there in person.


Copacabana Beach at Night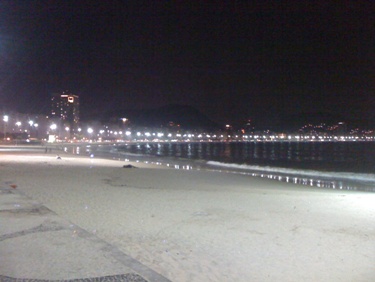 I took this as I was walking back from Arpoador, Ipanema and Leblon back to my apartment in Copabacabana. Its so well lit up that I never was afraid when I walked at night and thankfully never had any problems. Lots of people walk, run and bike through Copacabana.


Pedra Bonita - This is Where I Went Hang Gliding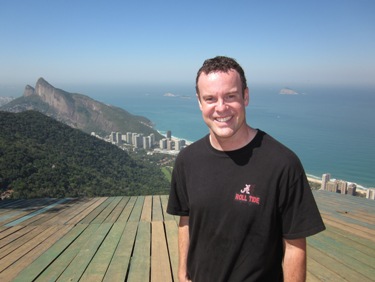 Yes, this is the place where I went hang gliding. I think it is the only place where people hang glide in Rio. I didn't go the day I had this picture made but I went before I left. Imagine leaping out and gliding down to the beach as you look at all this beautiful scenery. It really wasn't that scary, surprisingly from someone who doesn't like heights.


Rio de Janeiro Girls - Just Plain Beautiful!
These are a couple of beautiful girls I met when I lived there.


Picture of Sugar Loaf Mountain Taken From Christ the Redeemer Statue
The scenery looked so perfect when I was at the Christ the Redeemer statue that Sugar Loaf mountain and all the surrounding area looked like a picture.

Return From Rio de Janeiro Pictures to Rio de Janeiro Brazil

Return From Rio de Janeiro Pictures to BrazilCultureAndTravel.com