Rio de Janeiro Nightlife - 4 Amazing Things You Must Experience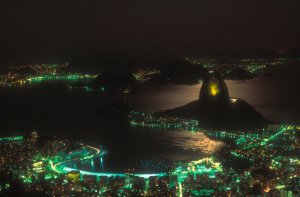 Rio de Janeiro nightlife is some of the best in the world, and when you are visiting this amazing city it is part of the culture that you simply cannot miss. Not only do you have an immense amount of bars, clubs and discos on offer, but also the lively atmosphere on the beaches. Brazilians love to party, and will spend many nights having fun, and enjoying the energetic way of life.
Dancing - Dancing is one of the things you must experience when in Rio, and you will notice that the Rio de Janeiro nightlife is all about moving. The people in Rio can start a party anywhere. The locals prefer to gather in the bars that line the streets, and to outsiders these bars seem a strange place to have a dance. However, once you have been in them for a few hours surrounded by the odd décor, and the animated people you too will want to dance and sing.
Although these bars are often the starting point to the night's entertainment, you will often find yourself in them until the sun comes up. Time will simply pass you by as you are having such a great time. Downtown Rio is another place you have to experience; often the tourists find themselves in this area looking for the Rio de Janeiro nightlife. There are many different dance clubs in this area, and they should all not be missed they will often have party nights and everyone is welcome.
Samba - You will very quickly find out if you can dance the samba like a professional, and if you can't you will still be expected to join in. The dance schools and clubs in this area of the city may seem daunting; however, the students and people who attend them all have one passion, which is dance.
Carnaval - The Rio de Janeiro nightlife comes into full force when Carnaval is on in the city; this amazing four day celebration has the whole city involved. The incredible, lavish, anything goes attitude that surrounds the carnival is a once in a lifetime opportunity. Often you will wonder how the local people party all night every night. You have to remember that dance and partying is in their blood, and it is second nature to them.
Beach Nightlife - The Beach life is amazing in Rio and you should ensure that you experience them as they are packed during the day with sun worshippers, and of an evening with party goers. Copacabana beach is the most popular beach to visit of an evening, where the atmosphere is electric, and the party goes on all night. The world famous exquisite nightlife that you will find here is incredible.
No matter what brings you to Rio there are several things that you will experience and love whilst in this extraordinary city of life, you will return home feeling vibrant and refreshed.


Return From Rio de Janeiro Nightlife to Rio de Janeiro Brazil

Go To BrazilCultureAndTravel.com