Botafogo Beach - 5 Interesting Facts About This Gem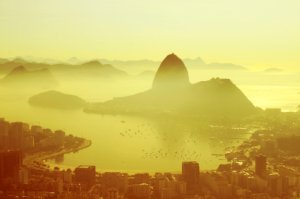 Botafogo Beach is not a large area of beach. Rather than a typical beach spot, the area is more of a bay than beach. The waters are somewhat less pristine than others since it is more of an urban beach. Most people do not go swimming or surfing here; they stick more to the sand than the water. There is still plenty to do.
Amazing Place For Pictures - Located at the base of Sugarloaf Mountain, it is centrally located within the city and is an area that is photographed quite a lot because of the location. Photographing Sugar Loaf Mountain, Christ the Redeemer and Guanabara Bay from here are just a few of the shots that can be taken.
Bicycling - There is a bicycle path for those who want to enjoy their daily ride.
Historical Area - It was named after Joao Pereira de Sousa Botafogo, who was granted land here by the Portuguese Crown. The name means, "set it on fire" which is in reference to the artillery on the ship Botafogo.
The former president of Brazil, Fernando Henrique Cardos lived in this area for a period of time when he was a child. There are two museums located here as well.
Amazing Sailing - The beach winds around a small harbor located in the downtown area and is often full of sailboats. This beach is more conducive to sailing as the waters are calmer here.
Cool Place To Walk Along The Beach - It is often used as a place to get a brief respite from the city and take a walk along the sand. The skyline and the peaks of the mountain make a beautiful backdrop as you stroll along and enjoy the solitude.
The views of Rio de Janeiro from Botafogo Beach are quite lovely and the sidewalk that runs along the beach provides a wonderful view of the city of Niteroi, which is nearby.

Return From Botafogo Beach to Beaches In Rio de Janeiro

Return to BrazilCultureAndTravel.com