Brazil Climate - What Are The Different Climate Areas & Where Should You Visit?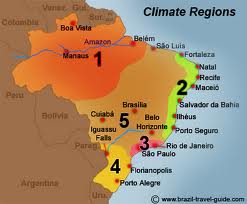 The Brazil climate fluctuates greatly throughout the regions. These are important Brazil facts and information to know when you are traveling. These are the six climatic regions: humid subtropical, semiarid, subtropical highland, tropical monsoon, tropical rainforest and tropical wet and dry.
On a map the climate is divided into five.
Below are brief descriptions of the Brazil climate by regions.
Brazil Amazon - This is the area that covers the Amazon River. This region is very wet, with the rainy season lasting five and a half months. The southern region's rainy season goes from middle of October to late March. And in the central zone - around Manaus - from December until middle of May. If you want to visit this area, which is the northern one-third of the entire country, the best time would be June through September (their winter months) before the rainy seasons start. The rainy season sees a lot of rain, every few hours, visiting during this time would make for a miserable trip, unless you just love the rain, constantly.
Brazil Pantanal - This area is the same as the Amazon and sees the rainy season from December to March. The rain is very abundant here with very high temperatures and a lot of flooding. The best time to visit the Pantanal is during the winter months of July through September. This is considered the dry season. There is a mid-rainy season in the fall and spring months of April through June and October and November.
Brazil Rio De Janeiro - The best time to visit Rio is in the summer months from December to March. Because this is a tourist hot spot, it's very pricey to stay. The months of May through October offers better rates, but the weather is a bit cooler from the 60 F/ 20 C. These are mild enough to be enjoyable, but too cool for decent beach time.
The rainy season brings on a lot of rain. It's an unpleasant place to be in the rainy month of April, but know that rain storms can pop up at any time, just not as often during the other seasons.
Brazil Sao Paulo - Sao Paulo, though in the south region of Brazil shares some of the climate with Rio de Janeiro, especially along the coast. The interior of Sao Paulo is on a plateau and the climate goes along with the climate regions to the center and the south. Sao Paulo has nice temperatures and decent weather in the summer, but the humidity can make it very sticky. The winters are cold.
South Brazil - This region has the Brazil climate of four real seasons. The summers are hot and the winters are cold. The best tourist time is in the summer when the beaches are nice and inviting.
The seasons in the South America are just the opposite of North America. These are the seasons: Spring is September 22 to December 21, Summer is December 22 to March 21, Fall is March 22 to June 21 and Winter is June 22 to September 21. I had to get used to these seasons when I moved to Rio. More important Brazil facts and information to know.

Return From Brazil Climate to Brazil Facts

Return From Brazil Climate To BrazilCultureAndTravel.com