Brazil Copacabana Beach - 5 Reasons Why This is "THE" Beach in Rio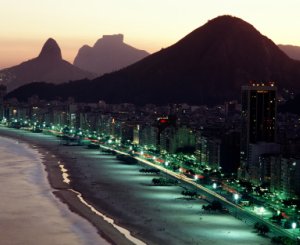 The Brazil Copacabana Beach in Rio de Janeiro is most often considered when beaches in Brazil are mentioned. Named after the Copacabana Palace Hotel, which is known for attracting wealth and fame, the beach has beautiful white sands, parties 24/7 and activities from volleyball to swimming and soccer to sunbathing. Here's my 5 reasons why this is "THE" beach in Rio.
Refreshments Galore - Copacabana Beach has vendors everywhere so refreshments are never far away. There are a number of quaint little bars along the main street of the beach and fruit drinks, beer, sandwiches and snacks may be purchased here. The seasonal period is from November to March and this is normally when prices are somewhat higher than during the off-season.
Plenty of Souvenirs - The beach is always filled with vendors selling all types of items. This is how many make their living. From shirts, towels, bracelets and souvenirs, you can find items that will be perfect to remember the trip to Copacabana Beach.
No Way To Be Bored - The beach has plenty to offer. Whether you need an umbrella and chair or a drink, you can find it. There's a lot of activity with teams competing against each other in a soccer match or people playing fute-volley. This is where you have a volleyball net but the players can't use their hands. They can use their feet, head and shoulders. It's really cool to watch.
Beautiful Backdrop - With the combination of blue-green water and the beautiful sandy beaches, the Copacabana Beach has a striking setting. The mountains in the background with their native plants are one of the scenes that you will enjoy and is often a photo for remembering the trip. The high-rise buildings are another part of the backdrop.
Great Lifeguard Support - Having constant lifeguard support is very important, especially for a popular beach. Copacabana Beach does not disappoint because it has lifeguards that are usually on duty from eight in the morning until eight at night.

Return From Brazil Copacabana Beach to Beaches In Rio de Janeiro

Return To BrazilCultureAndTravel.com