Brazil History - 7 Fascinating Details You Didn't Know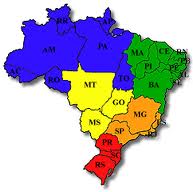 Brazil history is a treasure trove of interesting facts and amazing adventures. If you are planning a visit to this South American country you may want to discover some of these facts before your trip. Then you will have a better understanding of the culture, history and people. Why not explore these 7 fascinating Brazil facts that will give you some of the lesser known facts about the real country of Brazil?
The Path of Gold - During the 18th century Minas Gerais was a major gold mining center in South America.The 'Caminho do Ouro da Piedade' was the path through Brazil where tons of gold would be transported each week.
Tropical Empire - The Portuguese royal family had moved from Lisbon to Rio de Janeiro due to the fact that Napoleon Bonaparte had brutally invaded their native country in 1807. During 1808 Prince D Joao, a prominent member of Portugal's ruling family, decided that he would construct his personal version of a tropical empire in Brazil's capital city.
Brazil Becomes a Kingdom - The United Kingdom of Portugal, the Algarves and Brazil became a reality in 1815 when the Portuguese Prince Regent (John VI) made the historic declaration. When the country of Brazil was promoted to an actual kingdom the people would also discover that they had more independence for administrative and government matters.
Dia do Fico - Brazil's capital city was also the site where the rebellion against the Portuguese monarchy originated. Brazil declared its national independence in 1822. There is even a very famous oil painting that depicts the historic event. The Brazilian artist Pedro Americo painted ˜Independence or Death in 1888. Today Dia do Fico is a federal holiday that is celebrated annually on the 7th of September.
The Brazilian city of Petropolis - According to Brazil history the city of Petropolis has long been one of the most honored. The city and region are famed for the beautiful landscape and temperate climate. Even during the 1800s Petropolis was winning fans from the farming community as well as the ruling class. It is documented that Brazil's emperor Pedro I was so impressed by an overnight stay at a farm owned by Pardre Correia that he immediately purchased the land. The name of this farm was then changed to Fazenda Imperial da Concordia.
Historical Manaus - The city of Manaus is in the northwestern region of Brazil, near the junction of the Negro and Amazon Rivers. This one location is home to more than a million Brazilian citizens and it has long been a city of great importance where Brazil history is concerned. Many years ago this site could only be accessed by water, but it was an important trading center. There is even an elegant opera house that dates back nearly 200 years. During recent years roads were constructed to make it easier to reach Manaus by land.
Shared Borders Affected History - There are only 4 of South America's mainland countries that do not share a border with Brazil. These countries are Chile, Peru, Ecuador and Colombia. These shared borders are part of the reason that so many of the major events in South America's past have directly impacted Brazil history as well.
There are so many interesting Brazil facts that it's difficult to narrow it down to only 7. Brazil remains a land of mystery and secrets and the only way to unlock these mysteries is through personal experience. Why not visit this beautiful country and explore the secrets for yourself?

Return From Brazil History To Brazil Facts

Return From Brazil History To BrazilCultureAndTravel.com