Brazil Soccer Fans - 5 Reasons Why They're so passionate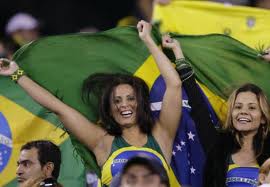 Brazil soccer fans are thought to be some of the most passionate in the world and there are many reasons for this. The whole country embraces soccer, and for some, it is considered a second religion. Many people in Brazil dedicate their lives to supporting their team and the players. The fans that support the team are a huge influence behind the atmosphere at the soccer games.
Passionate Nation - Brazil is an incredibly passionate nation and everything that people do, they do with pride and enthusiasm. This includes soccer and many of the Brazil soccer fans rank the game high above anything else in their life. Since the introduction to the game in the 19th century, the Brazilian people have embraced the game and love to support it. Brazil was typically a poor country and for them to have something to believe in had a huge impact on their lives.
Brasileiras - The Brazilian ladies have caused quite a stir over the years and these Brazil soccer fans are considered the sexiest in the world. With the very small soccer shirts and the vibrant attitude to the game, it is no surprise that men are so interested in soccer. Every element of the fans undying support is seen through the costumes, face paints and electric atmosphere that they bring to a soccer game. The Brazilian football fan proves that it can be a sexy game for everyone to enjoy.
Brazilian Culture - The culture in Brazil is very basic, and countries that have very little financial structure will often find a passion. All small children in Brazil can be seen in the streets playing with their soccer balls. These are the next generation of Brazilian football fan. The children in the streets want to be like their heroes and will practice for hours on end to master their skills. With an enthusiasm for a sport starting at such a young age, with the values and beliefs being passed from generation to generation it is amazing to see.
Brazilian Soccer History - Although the history of football in Brazil is not as long as some other countries, it is believed to be the richest. The way that the average Brazilian football fan embraces the game has been incredible, and no other country in the world can make the same claim. As the talent within the Brazilian soccer team grew, so did the obsession from the soccer fans. It became so much more than just a game, and people do throw their whole heart and soul into a soccer game. Soccer gives the Brazilian people something to be proud of and allows them to mark their place in history.
Brazilians love to party - The Brazilians do not need any excuse for a party and a samba, and there is every opportunity for both when brazil are playing soccer. The Brazil soccer fans show the rest of the world that the game can be fun and exciting as they dance in the stands, cheering and supporting their team. The Brazilian managers often state that the fans are a huge help to the team, knowing they have that level of support encourages them to play the best they possibly can. As soccer continues to be huge in Brazil, more Brazil soccer fans are born, and the amazing passion continues.

Return From Brazil Soccer Fans to Brazil Sports

Return From Brazil Soccer Fans to BrazilCultureAndTravel.com