Brazilian Recipes - What Are the 5 Best?
Brazilian recipes are an important part of the festive nature of Brazilians. They love parties and celebrations. They throw the biggest party in the world every year.
They have great dancing and great music. But no party is complete without food. People can gather around the table, and share laughter, food and camaraderie. Each of the major regions has their own common Brazil food recipes. Those dishes reflect the particular culture of the area. Recipes that are popular all over the country will still be different from north to south, or east to west. There are so many great Brazilian food recipes that it can be hard to pin down the very best, but here are five of them.
Feijoada. This Brazilian recipe of black bean and meat stew is a favorite in the southeast, around Rio and Sao Paulo. This area was more heavily settled by Europeans, and the food reflects that. To make this soup you need to start the night before. That will give all the flavors plenty of time to meld together. The really authentic Brazil recipes for this soup call for smoked meats and beef jerky. Make sure that you take the meat out and serve it separately. Serve some orange slices along with your stew, to help your digestion.
This Brazilian fejoada recipe will serve around 12-15 people:

Ingredients:
1 lb. black beans
1 lb. smoked ham hocks
1 of each: pork foot, ear, tail, tongue(optional)
1 lb. Mexican "chorizo," "pepperoni" orBrazilian "linguica"
1/2 lb. Chunk of lean Canadian bacon orBrazilian "carne seca"
1/2 lb. Smoked pork or beef ribs
3-4 strips of smoked bacon
1/2 lb. lean pork
1/2 lb. lean beef
1 large onion
4 garlic cloves
2 tablespoons of olive or vegetable oil
1 tablespoon vinegar
salt to taste
black pepper
hot sauce (optional)
Directions for this Brazilian Recipe
Soak beans overnight in large container. Next morning, cook beans for 4-5 hours at low heat. Place ham hocks, chorizo, ribs and Canadian bacon in deep pan with plenty of water and bring to a boil. Change water and bring to a new boil, repeating the procedure at least three times to tenderize cured meats and remove excess fat.
In a large frying pan saut' onion and garlic using either vegetable or olive oil (smoked bacon strips optional) for two or three minutes. Toss in cubed pork and beef. Saut' an additional two-three minutes.
Mash 5-l0 tablespoons of beans and add to large pot. The resulting paste will thicken sauce. Add two tablespoons of olive oil, three garlic cloves all chopped-up or mashed, along with a tablespoon of white vinegar and a teaspoon of red-hot pepper. Stir, heat over medium fire for two-three minutes, then transfer to contents of frying pan. (You may use two frying pans, if necessary)
Let simmer for l0-l5 minutes. Add contents of frying pan(s) to the beans and let boil at medium heat for 1-2 hours.
Serve over rice, with additional red-hot sauce, if desired.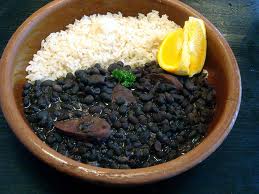 Caruru de Camarao. This Brazilian recipe of shrimp and okra gumbo is typical of the Brazilian recipes that you find along the coast. A lot of the settlers from this area were from the Caribbean, including slaves that were brought to the Caribbean from Africa. Okra is a really common ingredient found in African cooking. Those recipes take advantage of the bounty of the sea and fresh seafood. You can make it with just shrimp, or you can add in other kinds of seafood, if you want to. It will be thickened with either peanuts or manioc. Manioc is also called cassava, and is used all over the world, including Africa.
Ingredients
3 tablespoons butter
3 pounds shrimp medium, shelled
2 tablespoons onion chopped
2 tablespoons green bell pepper chopped
2 each tomatoes chopped, peeled
1/2 pound okra fresh, or 10 ounces of frozen
1/4 pound shrimp dried
2 cups coconut fresh grated
1 1/2 cups water boiling
2 tablespoons Manioc meal
1/3 cup olive oil or spanish oil
1/3 cup peanuts ground, roasted
2 tablespoons coriander fresh
salt to taste
white pepper to taste
Directions for this Brazilian Recipe
Note: Frozen thawed okra make sure to cook only the minutes recommended by package.
Manioc meal can be found in New York, and some other big cities, but in this recipe only two tablespoon is not very inportant, so you can use plain bread crumbs for the consistency.
Melt butter in 2-inch skillet over high heat; add shrimp (fresh).
Cook, stirring contantly, until opaque and tender, about 3 minutes.
Remove shrimp with slotted spoon to platter; reserve.
Reduce heat to medium-low; sauté onion in same skillet, stirring frequently until soft, 5 minutes.
Add green pepper, tomatoes, okra and ground shrimp.
Stir.
Pour boiling water over coconut.
Mix with manioc meal (can be omitted, use 2 T plain bread crumbs).
Stir into tomato mixture.
Simmer covered over low heat until okra is tender, about 25 Add reserved shrimp to tomato mixture; cook over medium-low heat, stirring constantly, umtil shrimp are hot.
Stir in oil, peanuts and coriander.
Season to taste.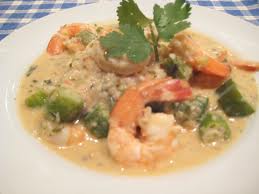 Pato no Tucupi. This Brazilian recipe is duck in tucupi. Tucupi is a broth that comes from the cassava, after it has been fermented and processed.. Once you cook the duck, you cut it up and boil it in the tucupi. Serve with manioc flour and rice. This is a specialty found in the northern part of the country that sees most of its influence from the native peoples.
Ingredients
1 large duck, about 3 kg
6 liters tucupi sauce
6 packets of Jambu (also called toothache plant which causes numbing sensation)
1 packet basil
1 packet chicória do norte
7 cloves garlic
21 pieces of hot peppers
Salt as needed
5 lemons
1/4 liter white wine vinegar
Directions for this Brazilian Recipe
To prepare the duck, rinse duck under running water. In a bowl, mix the wine, 3 cloves garlic, lemon juice, white wine vinegar, 1 hot peppers, salt and water.
Soak the duck into the mixture and let stand overnight in the refrigerator.
Bake the duck in a moderate heat for about 90 minutes.
In a pan, cook the tucupi sauce with the remaining peppers, 2 clovers of garlic, basil, salt and chicoria de norte.
After the ducks get cold, cut it into 4 pieces.
In a pan, put 2 liters of tucupi sauce and boil the duck, until very soft. Then debone and remove skin from cooked duck.
To prepare the Jambu, discard the leaves and keep only the stalks. Wash under running water.
In saucepan, add salted water and bring it to a boil. Slightly scald jambu, drain and set aside.
In a clay pot, put the duck and cover. Little simmer it with the rest of tucupi sauce.
The duck is served in tucupi with white rice, cassava flour.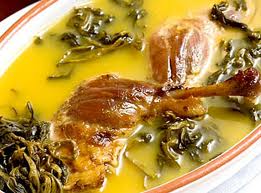 Empadinhas de Palmito. This Brazilian recipe is similar to empanadas found in other countries, but the Brazil food recipes have their own twist. Generally they are round, more like pies than like the folded empanada. Palmito is the heart of palm, which is a a common ingredient all over the country. The empadinhas, with a wide variety of fillings, are a common street food, since they are so handy to eat.
Ingredients:
5 tablespoons butter
3 tablespoons vegetable shortening
2 1/2 cups flour
1 teaspoon salt
3 egg yolks
1/4 cup buttermilk
For the Filling:
2 tablespoons butter
1 tablespoon olive oil
4 pieces bacon, chopped fine (optional)
1 large onion, chopped fine
1 tablespoon sugar
1 can hearts of palm, drained and chopped
1 tablespoon flour
1 cup whole milk
12 black olives, roughly chopped
1/2 cup small cubes of farmer's cheese or feta (optional)
Preparation for this Brazilian Recipe:
Melt the butter with the shortening, and let cool.
In a large bowl, stir together the flour and salt. Stir in the cooled butter and shortening with a fork.
Stir in the egg yolks, and mix well. Add the buttermilk gradually until mixture starts to come together. Knead briefly until dough is smooth.
Wrap dough in saran wrap and let rest on the counter for 30 minutes to an hour.
Melt butter and oil in a skillet on medium heat. Sauté optional bacon pieces until crispy then remove to paper towels. Add the onions and sugar to the skillet and sauté until golden and translucent.
Add the hearts of palm and sauté a few minutes more.
Stir in the flour, then add the milk and lower heat slightly. Cook, stirring, until mixture thickens.
Remove from heat and stir in the olives. Stir in the farmer's cheese and bacon bits, if using. Set aside to cool.
Preheat the oven to 350 degress. Divide dough into 12 pieces. Roll out 10 of the pieces into circles large enough to line the bottom and sides of a standard muffin tin. It may help to roll the dough, then let it rest for a few minutes, then roll it out the rest of the way. The rest lets the elasticity in the dough relax, and helps it to maintain its shape.
Line 10 muffin tins with dough circles, pressing them into the bottom and sides of the pan.
Divide the filling between the 10 lined muffin tins.
Roll out the remaining two portions of dough and cut circles to match the diameter of the muffin tins. Place the circles on top of the filling, and pinch around the edges to seal them with the dough lining the tin. Seal them well so that the filling doesn't leak out during baking.
Bake pastries for 25-30 minutes, or until golden brown.
Makes 10 empandinhas.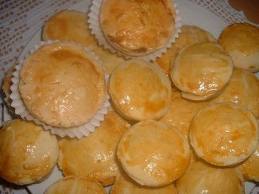 Curau de Milho Verde. This Brazilian recipe is a corn pudding that is traditionally served during Festas Juninas, or June Festivals. Like many other Brazilian food recipes it calls for simple, fresh ingredients that are readily available during the year.
Ingredients:
6 ears of fresh corn
3 cups of milk
3/4 cup sugar
pinch of salt
3 tablespoons butter
cinnamon
Directions for this Brazilian Recipe:
Scrape the kernels off of the ears of corn.
Place the corn in a blender (or food processor) with the milk, and blend well, for at least 3 minutes.
Strain the corn/milk mixture through a fine mesh sieve into a pot. Discard the fibrous parts of the kernels that remain in the sieve.
Add the sugar, a pinch of salt, and the butter to the pot, and bring mixture to a simmer.
Cook, stirring continuously, until the mixture becomes thick and creamy, about 15 minutes. If it's thick enough, you should be able to drag a wooden spoon across the bottom of the pot and see the bottom for several seconds before the mixture closes in on itself.
Remove from heat and let cool. Pour pudding into a serving dish. Sprinkle with cinnamon.
Chill thoroughly, and serve cold.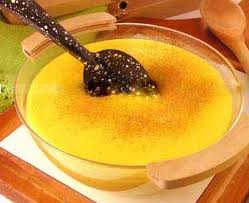 Try out a lot of Brazilian foods so that you can find your favorite. Take your favorite Brazilian recipes home with you and have your own parties with a Brazilian flair.