Buzios Brazil - 5 Compelling Reasons To Visit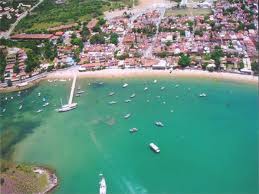 There are a number of beaches in Buzios Brazil and the most popular beaches are Joao Fernandinho Beach, Azeda Beach, Ferradura Beach and Geriba Beach. Azeda beach is a small beach, which is home to crystal clear waters that tend to be rather calm. This beach is easy to get to and it can be accessed on foot following a short trail or via boat. Joao Fernandinho Beach is a small beach, which has calm, crystal clear waters. This beach is located close to the other popular beach in the area that is known as Joao Fernandes. This beach is home to a number of bars and some of the finest seafood including lobster. Ferradura Beach is also home to a number of picturesque bars and these serve local styled meals and drinks.
Family Atmosphere - Although this area is a very popular tourist destination there is still a very strong family atmosphere and there is plenty of space on the beaches.
Surfing - The beaches here are the perfect place for people that are interested in water sports. The beaches offer wide-open spaces which are perfect for surfing and other water sports. These beaches are very popular with surfers and they can be seen in the water from sunup right through to sunset. The area is one of the most popular sailing sites and water sports tend to take place on the western side of the peninsula. There are national and international competitions that take place within these waters.
Food and Drink - Buzios Brazil is the perfect place for people that appreciate good food. There is a wide array of different types of cuisine on offer within this tourist destination and this includes Italian, French, Thai and Moroccan. There are many restaurants on offer therefore there is something to satisfy all tastes. There are also a lot of local dishes on offer and this includes fish and other seafood. This area originated as a small sized fishing village and it is surrounded on all sides by beaches. There are a number of very stylish bars within this area as well.
Diving - Buzios Brazil is a very popular area for diving as it has an incredible amount of underwater fauna. The waters in this area are crystal clear which makes for some very good diving. The temperature of the water within this area is great for surfers as it tends to be about twenty-two degrees, which makes the water a very inviting place. The coastline in this area is very rich in sea life and part of this is thought to be due to an oceanic current that comes in from the Antarctica.
Cost and Location - There is a vast number of hotels and inns within this area. The accommodation prices tend to be higher during the main seasons. These higher rates tend to be charged from mid December to mid March and also during national holidays. At all other times of the year the prices are reduced as this is classed as low season.