Copacabana Palace Hotel - 5 Interesting Facts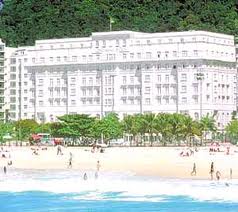 The Copacabana Palace Hotel in Rio de Janeiro, Brazil is a significant historical landmarks that has been welcoming guests since it opened in 1923. As you read these 5 Interesting Facts about the hotel you will begin to understand why it is called the 'Princess from the Sea'.
The hotel has only had two owners. A destination for the rich and the famous, the hotel has changed hands only once. Originally the hotel belonged to the Guinle family and was purchased by Orient-Express Hotels, Trains & Cruises in 1989.
The Copacabana Palace Hotel has been a high society destination since opening. Guests over the years have included Fred Astaire and Ginger Rogers' and was the scene of their first dance in the movie, "Flying down Rio". Carmen Miranda, the Rolling Stones, Theodore Roosevelt, Ava Gardner, Marlene Dietrich, Lady Di, King George VI, Rod Stewart and several other famous people have enjoyed the luxury and elegance provided by the hotel.
The hotel maintains a Golden Book. This guest book is a record of all the famous people who have stayed at the hotel from the 1920s when it opened to the present day. From Lord Bessborough in 1923, Baron Henri de Rotschild and Noel Coward in 1931, Walt Disney, Bing Crosby, Douglas Fairbank, Jr. and Ed Sullivan in 1941, John Wayne in 1952, Kirk Douglas in 1963, Dionne Warwick in 1974, Ozzy Osbourne, White Snake and Iron Maiden in 1985, Catherine Zeta-Jones in 1999, the famous list goes on.
There are three parts to the hotel. The executive floor is the location of 7 penthouse suites and 26 rooms. The Tower Wing contains 78 suites. The main building of the hotel has 147 suites. The entire hotel sits on more than 12,000 square meters. Depending on what time of year you visit and the room chosen, the cost per night is from $240 to $1250.
The Copacabana Casino, which belonged to the Copacabana Palace Hotel closed in 1946. From the 1930s to 1946, the Copacabana Casino welcomed guests such as Bing Crosby and Errol Flynn, who played the tables. In 1946, president Eurico Caspar Dutra declared gambling illegal and banned gambling from the country and the casino was closed. The casino underwent renovations costing $4 million and was reopened in 2006. The project was closely overseen to make certain that all renovations were original.

Return From Copacabana Palace Hotel to Rio de Janeiro Brazil

Return From Copacabana Palace to BrazilCultureAndTravel.com