Ipanema Beach Brazil In Rio - 6 Incredibly Interesting Facts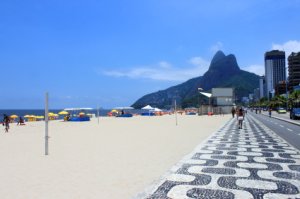 Ipanema Beach Brazil has approximately two kilometers of beach with white sand. The neighborhood surrounding this amazing beach is of the same name and Rua Vincius de Morais is a strip that contains many bars, restaurants and shops. Check out these 6 other incredibly interesting facts.
Divided By Posts - Divided by posts, the different areas of the beach are quite different. The area known as Posto (Post) 9 is also known as Cemeterio dos Elefantes. This is where many artists, hippies and others of this era are known to congregate. The Posto 8 area is known as where the kids from the shantytowns around Ipanema Beach hang out.
Clean - One thing that is often said about Ipanema Beach is the sand is much whiter and cleaner than the other areas beaches including Copacabana, which is the most popular beach in Rio de Janeiro.
What Does Ipanema Mean? - Ipanema is an Indian word meaning "bad, dangerous waters" and this is mainly true about the waters here. The waves that crash onto the shore here are oversized and there is quite a strong undertow as well. The locals know where the safest places to swim are and one would do well to follow their example.
Swimsuit Launching Pad - This beach was the first place for a variety of swimsuit fashions to launch including the crocheted G-string for men and the dental-floss bikini.
Easily Accessible - Ipanema Beach Brazil is easily accessible. It is only about 10 minutes from the Santos Dumont Domestic Airport.
How Was It Made Famous? - The beach was made famous by a song of the same name that was popular in the 1960s.

Return From Ipanema Beach Brazil to Beaches In Rio de Janeiro

Return to BrazilCultureAndTravel.com