Ipanema Leblon - What Separates This Rio de Janeiro Beach From Others?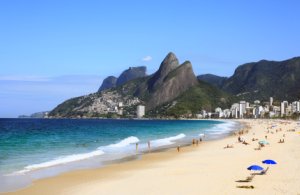 The beaches of Ipanema Leblon are separated by the Jardim de Ala Canal. These two districts of Rio de Janeiro are a must see if visiting since they play quite a role in the cultural aspects of the city.
In addition, they are two of the most elite and high-end areas of Rio de Janeiro as well as Brazil. The canal that separates them is where there are a number of expensive bars, boutiques and restaurants. For this reason, many tourists choose to stay in the Copacabana area and walk or bus to the Ipanema Leblon area.
To the left of Ipanema Beach is Arpoador. This is a rock that is between Copacabana and Ipanema. It is also one of the best places to watch the sunsets in Rio de Janeiro. Surfers seek out this spot as well. The opposite side at Lagoa Rodrigo de Freitas is another lovely area. Here you will find a sports club that caters to the elite, many restaurants and a jockey club.
Due to the this area being wealthier neighborhoods, the beach is more of a refined culture than what is found at other beaches in the area. The 1960s were a time when this area was more or less an artist, hippy cultural venue and a place where opposition to politics and the government was more dominant. This attitude is no longer present and today the area is more sports oriented and is considered a safer beach than many.
The number of sports niches that are a part of Ipanema today include football, volleyball and soccer. There is an open air free gym and the posts that are distinct divisions on the beach, manned by lifeguards, each have a type of person that is dominant there.
The Leblon is even more expensive than Ipanema. However, the beach does not draw as many people; mainly families hang out here. The area near the rocks sometimes has good waves so there are often surfers that go here. The Dois Irmaos shadows the beach here in the evening so the sun is not present as it is on Ipanema. In addition, the channel that connects to the lake often makes the water dirtier here.
The existence of the seafront promenade that is created by the separation of Ipanema Leblon are also known for the Saracuras Fountain and within the Ipanema square, a fair is held for selling crafts, antiques, pictures and a variety of items. Every Sunday the Leblon Praca de Quental holds an antiques market.
Brazil is home to many festivals including Carnival, which is celebrated widely on the beaches. There is a trail at Ipanema Leblon that begins at the coastal avenue and continues up to the top of a hill. Observation points are all along the trail and from the top the view of the lagoon and the city are extraordinary.
San Martin, Ataulfo de Paiva and Bartolomeu Mitre streets are the location of many Ipanema Leblon restaurants and hotels. The Rodrigo de Freitas features a walkway that many enjoy including bikers, skaters and those who just want to walk and enjoy the beauty of the area. Among the bars and restaurants that are located here, many have outside tables where people can relax and enjoy the view of the magnificent scenery.

Return From Ipanema Leblon To Beaches In Rio de Janeiro

Return to BrazilCultureAndTravel.com