Natal Brazil - What Are The 5 Coolest Things You Should Do?
Natal Brazil is a beach city off the east coast of this beautiful country. It's name in Portuguese means Christmas so it's Christmas all year in Natal. This is one of the prettiest Brazil beaches because of its simplicity and clear water. You can either sit and relax at the beach or you can do some adventurous stuff. I've listed a little bit below for all types of personalities. Here's the 5 coolest things you can do when you're in Natal.
#1 - Can You Handle the Dunes? - This should be where you either start or end your trip to Natal. You can have an experienced dune buggy driver take you through the dunes while the wind blows through your hair. This is an exhilarating experience you have to do. 
#2 - Ski bunda - When you arrive, make sure you tell the people at your hotel that you want to go on the ski bunda. It's basically a board that you sit on and slide down a sand hill and land in a lake. It costs about $R5 which is about US$3. Definitely need to try it. 
#3 - Aero bunda - This is where you sit in a canvas harness on top of a hill and slide down the wire through the air and land in the water. Most people will do the ski bunda and the aero bunda while they're doing the dune buggy tour.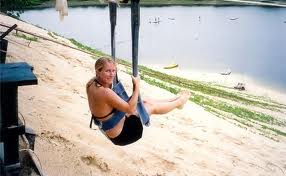 #4 - Maracajau Reef - This beach is called the Brazilian Caribbean because of its untouched beauty and clear water. This trip will be for those who want to dive and snorkel. Even if you're not much of a diver or snorkeler, you can chill on the floating platforms and enjoy the scenery. The Parrachos are made up of elaborate reef designs and it is almost 4 acres large. 
#5 - Largest Cashew Tree In The World - On your way to see the cashew tree you can drive down the coastal highway and see a very cool fortress. After that you can visit the largest cashew tree in the world. You've never seen anything like this. It's unreal how huge this tree is.